According to

CAA research

, "90 percent of school children have bad posture when carrying their bags and could experience spinal damage as a result." Poor posture, backache, back strains, spine deformities and many other problems are everyday reality for many of us. The entire generation is affected. They're so common that people stopped thinking and worrying about them. We just go with the flow and take a pill if the pain worsens.
There are many possible reasons or contributors to this issue. Some of us believe that back problems stem from putting babies to a sitting position before they're ready or from using sit-in baby walkers from 6 months onwards… I haven't seen any research confirming or denying those suggestions (doesn't mean there's no such research, of course) but by using my common sense I figured that doing anything with the baby too soon is a matter of weeks in their life (and every baby is different, ready for the same thing at a different time). But Babies Grow Fast and you'll be sending them off to school sooner than you know it. Not for few weeks, but for many years…
They will be going to school every (school) day for the next 10-15 years. Carrying fully loaded backpack with them. Choosing the right backpack for school is something worth paying attention to, as it could have major effect on the health of your child's back.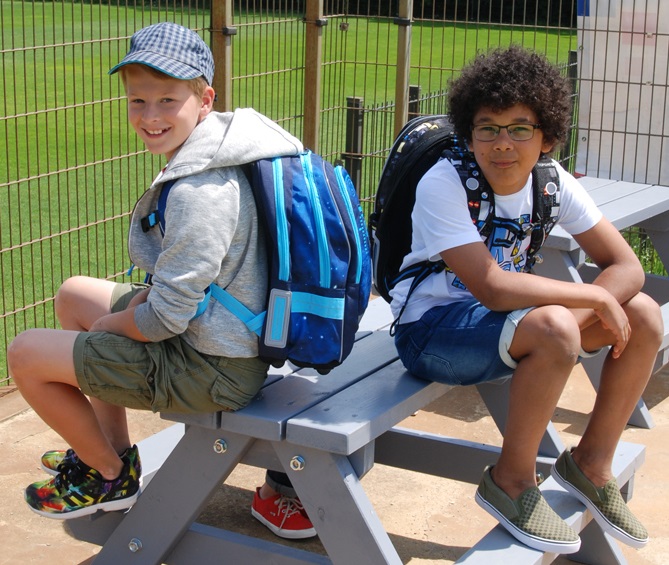 7 tips on choosing school backpack
Having pictures from Disney movies printed on the school backpack is priority number 1 for our little heroes, there's no doubt. However we, parents, realise that trends in popular cartoon characters are changing fast. It might be a better idea to choose backpack that has more universal design, like for example a school backpack with flowers on a pink background that your little girl will love for years. Now, let's have a look beyond "the great design necessity" and explore what else should a good backpack have.
1. Backpack should be of the right size for the child
Backpack shouldn't be too big or too small for your child. So buying a new back pack every year might not be just the case of following the latest fashion trends. Backpack shouldn't be hanging too low, under the hollow of the lower back and also make sure it's not wider than child's chest. Check if it fits before buying. Adjust the shoulder straps to the correct length to make sure it fits well on the back and is not falling down while walking. School backpack for juniors should have length adjustment clips on the top of the shoulder straps as well as at the bottom, by the hips. The top adjustment clips will ensure the backpack isn't too far from the top of child's back and will help with the right posture while wearing a backpack.
All backpacks look quite big as they need to carry A4 format of exercise books. If it seems that your little one is too small for the backpack, help him to carry it to and back from school at least for the first few months after starting the school. Don't worry about spoiling him by doing it. You won't be carrying his schoolbag forever, you're just helping his back developments while he's still little.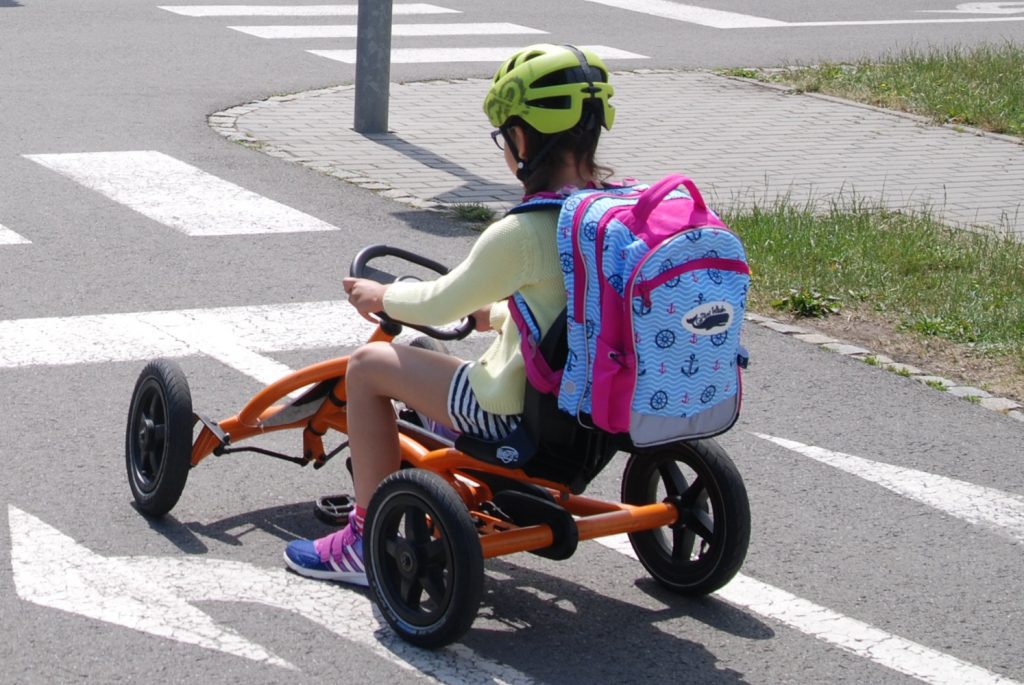 2. Make sure it's as lightweight as possible
Maximum weight of the loaded backpack shouldn't be more than 10% of your child's body weight. That is for 25 kg pupil maximal backpack weight of 2.5 kg. That is including your child's lunchbox, bottle, books, notepads and all other school materials. Sounds unrealistic? Check the information about backpack's weight before buying. Its weight depends on quality of used materials, padding, number of ergonomic features and backpack's dimensions (bigger schoolbags for bigger kids will weigh more). Differences in weight of certified school backpack's might be approx. +-400g. Little tip for packing: Leave everything that is not absolutely necessary to bring home in the locker at school and check the bag once it's packed every day to make sure there's no needless stuff.
3. How about wheeled backpacks?
Wheeled backpacks are the most suitable for carrying heavy things. So if point no. 2 is too hard to comply with and your child is walking to school more often than you drive him/her, consider buying backpack with an option to pull along on the wheels. Before doing so, please check the footpath to school that your child will be taking everyday. If it's too bumpy he'll end up lifting and carrying his bag in hands more than pulling along. In this case, simple backpack would be a better option.
4. Chest strap and good padding on the back & shoulder straps.
Backpack is much more comfortable to wear if there's good padding on the back and on the wide shoulder straps. Ideally, there should be also a chest strap to help with even weight distribution and to prevent shoulder straps from slipping down from shoulders. Some backpacks have even more ergonomic features like for example a lightweight aluminium cord on the back to distribute weight across child's back even better and to help with the correct posture while wearing.

Source: Topgal.sk
Good school backpack should have an ergonomic shape, good padding, wide & comfortable shoulder straps, chest strap and a lot of space inside to keep content organised.
5. Compartments & content organisation
Good school backpack should have enough compartments – to help your little one get organised. Heavier things should be placed near the back and shouldn't move around during transport. Separate compartment for lunchbox and bottle will help prevent spillage all over the school books and notepads.
6. Backpack safety features
The most important safety feature is high visibility elements or reflective elements. They'll greatly improve your child's safety on the way to and from school. Another possible "danger" associated with backpacks is possibility of tripping over it while it lies on the floor in the classroom or getting tangled in the long, hanging straps of the backpack. You can prevent those risk effectively:
By reminding your child to keep backpack hung in it's place, not lying on the floor.
Some backpack have magnets that hold long straps attached to a shoulder strap to prevent "hanging around." (like the one on the picture above – no hanging straps)
If the backpack has waist strap, it should be fastened when not worn. Otherwise the straps from the waist strap will be hanging low causing tripping hazard.
7. Teach your child how to wear backpack properly
Explain (and keep explaining) to your child how to wear backpack correctly and why is it so important. Kids are clever and want to do things right. Besides, good quality backpack will feel lighter if worn well. So adjust shoulder straps to the right length, always wear straps on both shoulders and buckle up waist strap – at least on the way to/from school.
With a wisely chosen backpack we're one step closer to a healthy, pain free back of our little students 🙂